Organizer
Atelier scherer fair consulting, has been working in the exposition market for more than 20 years. It is organized into two business divisions.
The International Division works works as an exhibition coordinator for the public authorities - worldwide. Through roadshows, joint pavilions or the participation at congresses, the Federal and state ministries further the presence of German industry abroad, using significant funds. Especially on the joint pavilions, the companies can benefit from comparatively favourable basic conditions, presenting their products and services to the foreign market and learning about local distribution channels and partners.
In doing so, asfc assumes the planning, organization and execution of the joint presence at the exposition abroad, compiles specific information about the respective countries for the exhibitors, addresses questions about the fair promotion and arranges contacts with the chambers of foreign trade and interlocutors in the target countries. The most important markets are in North America, Southeast Asia and in Australia. New markets such as South Africa and South America are being added.
asfc – your partner for successful steps into new countries and new markets.
The Domestic division organizes fair concepts in Germany. It is essential to recognize new trends and developments and hence to plan expositions and congresses. Asfc mostly attributes their success to the fact that, as well as realising the conceptual work, organising the exposition and realising the booth construction, they are available for the care of the exhibitors during and after the fair.
Tailor-made concepts for expositions
CRM-expo

The CRM Customer Relationship Management – Exposition & Congress, was first presented at the Düsseldorf Trade Fair Center in December 1999. It quickly became the leading trade fair for the CRM industry in Germany and has developed into the most important and largest industry meeting place in the area of customer relationship management in Europe.
START exposition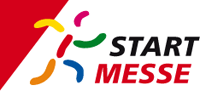 START has developed into the leading event for business start-ups, franchising and new companies in Germany. It is a reliable platform with an annual growth rate and an outstanding response from exhibitors, visitors and the media.
Every year, associations, consultants, entrepreneurs, service providers as well as franchisors and franchisees across all business sectors meet at Hannover, Nuremberg and Essen at the START. With an extensive lecture program and many attractive offers throughout, the fair is the industry meeting point for founders, franchisors and new businesses in Germany.
asfc gmbh, being an exhibition coordinator as well as organiser, proves with its employees, that customer and service orientation are lived on a daily basis.